Czech Games Edition has published some of the best and most liked games in my collection, like Alchemists and Dungeon Lords. With Through the ages: A new story of civilization the published secured another piece of my boardgame shelf space. It is a truly great game, but also very complex and it takes a LOT of time to learn the game which makes me hesitant to bring it with me for one-off games at a friend's house or when we play at my place.
I have played Fantasy Flight Games, Civilization the boardgame, and though I enjoyed how it brought the best parts of the PC game series to the table I was also not overly sold on the product as a whole. There were some clunky game mechanics in both combat and exploration as well as science that I thought could be done better. I also find the idea of mixing various historical people and having them compete against each other - Julius Caesar and Romans vs Bismarck and the Germans quite stupid and weird.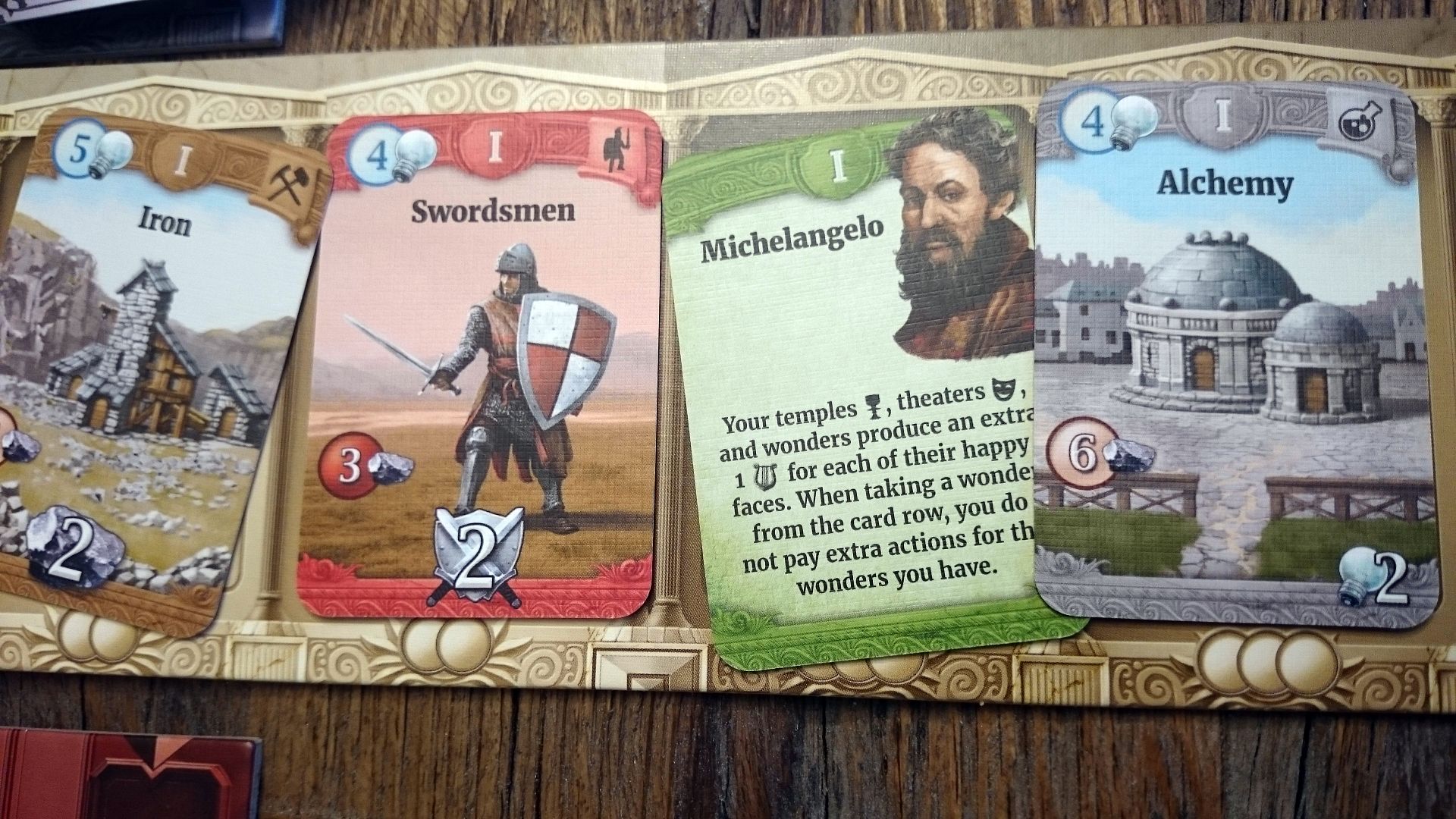 Through the ages kind of takes the ideas of Civilization and reworks them into a very detailed worker placement game that is card driven and that has no real gameboard but instead focuses on player sideboards where you keep track of your own civilization. The civilizations are also more generic in terms that you all start out the same, with "Despotism" as your government style. Sure there are historical characters that you can pick up to aid you, but they are at least not taking on the lead role of your play style.
Through the ages, as the name alludes, takes place over the span of 4 ages - Ancient, Age I (medieval), Age II (renaissance), and Age III industrial/modern. At the center of the board you will place several smaller board pieces with different trackers. These will keep track of each players culture and science progress. The player with the most culture at the end of the game wins.
The board will also show you the cards currently available to pick from for the age currently in progress, once an age deck runs out of cards, another age begins. Characters belonging to declining ages will be removed from play - you will not be able to benefit from Genghis Khan during Age III for instance...